---
---
Big Darkness Soon Come...

---
The Bush family reeks of fraud and bad karma. But even worse than our wretched, gibbling president are the cowardly whores in Hollywood who are currently smearing film stars and music people like Johnny Depp by calling them unpatriotic Americans who righteously question the wisdom of invading a whole nation of Islam -- 1.8 billion worshipers -- which is a dangerously stupid idea. Disagreeing with Donald Rumsfeld about bombing anybody who gets in our way is not a crime in this country. It is a wise and honorable idea that George Washington and Benjamin Franklin risked their lives for. These thieves in the White House are so crazy with greed and power, and they are causing so much drastic damage to the world we live in, that they are the ones who should be put on trial for treason.
---Hunter S. Thompson---

---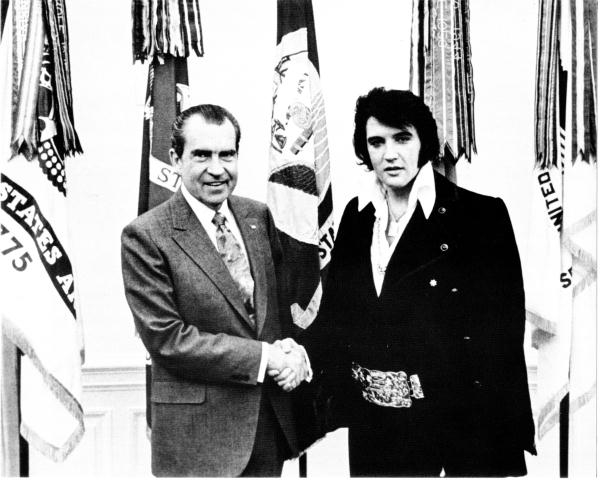 NIXON OBIT by Hunter Thompson
(lest we forget)...
---
IMPEACHBUSHWEAR
---
---
---Rant---
There is no more perfect phrase for the psychological climate in America than "fear and loathing". This trademark phrase is from the fevered genius of Dr. Hunter S. Thompson and all rightful credit is his. That is an ugly but necessary preamble in this land of litigation and hustle and profit at all cost, but things like that must be said or risk the snarling dogs of legal recourse. Regardless, and all apologies aside, let the point be made - America is lost and searching. Despite the trumpeting of the tired nonsense that America is great, and sound, and will return to its brief and sparkling glory. The brutal point, and ugly truth, is that America has lost its way... America is no longer America. When every dollar that is spent to annihilate our "enemies" is equally invested in trying to coexist peacefully...when other cultures are respected and embraced and thought of as important and not just strange and different and in need of Americanizing....when lying and deceit lose their currency...and when depth of spirit is as valued as depth of bank accounts... maybe, then, the promise of the original concept will have a chance of being realized. The world is watching...and loathing.


-WJGA-
---

---
Cops In Louisiana Can Now Search Homes Without Warrants...Big Brother Boogies
---
More spy cameras on the way in Washington...
---
Surveillance Warrants Outpace DOJ's Ability Process Them...
---
Secret Service Investigates Teen's Art Project Depicting Bush As Devil...
---
---
"America is at that awkward stage. It's too late to work within the system, but too early to shoot the bastards." -- Claire Wolfe, "101 Things to Do 'Til the Revolution" (1999)

---
---
White Rabbit Says "Just Follow Me": White House Considers
---
"The time has come, the walrus said, to talk of many things...." ---
Where is Lewis Carroll when you need him? We are officially down the rabbit hole now and many things remain left untalked about, aside from cabbages and kings. More along the line of cabbage-headed would-be kings...which sounds more the realm of Rudyard Kipling, who's contribution is welcome and sorely needed in this instant cabal of sorts.
---
---
BLOG OF DEATH
CBC NEWS
CBS NEWS
CNN
DEUTSCHE WELLE
---
---
"That's the spirit, George. If nothing else works, then a total pig-headed unwillingness to look facts in the face will see us through."
- General Sir Anthony Cecil Hogmanay Melchett, Blackadder Goes Forth

---

---

If the reports of the American majority's basic human decency weren't greatly exaggerated, chances are we wouldn't have ever gone to Iraq. Arguments against war fell on deaf ears largely because "It would be unspeakably wrong" wasn't sufficiently compelling. - Mechatanketra

---
"87 BILLION DOLLARS IS THIS MUCH"
...INSISTS BUSH
---
Powell Disputes Bush: "87 Billion Dollars Is NOT This Much..."
---
CAPITOL HILL BLUE
EDITORIAL CARTOONS
GLOBE & MAIL
THE GUARDIAN
HERALD TRIBUNE
OMAHA WORLD HERALD
PALM BEACH POST
SYDNEY MORNING HERALD
TIMES OF LONDON
TORONTO STAR
WASH POST